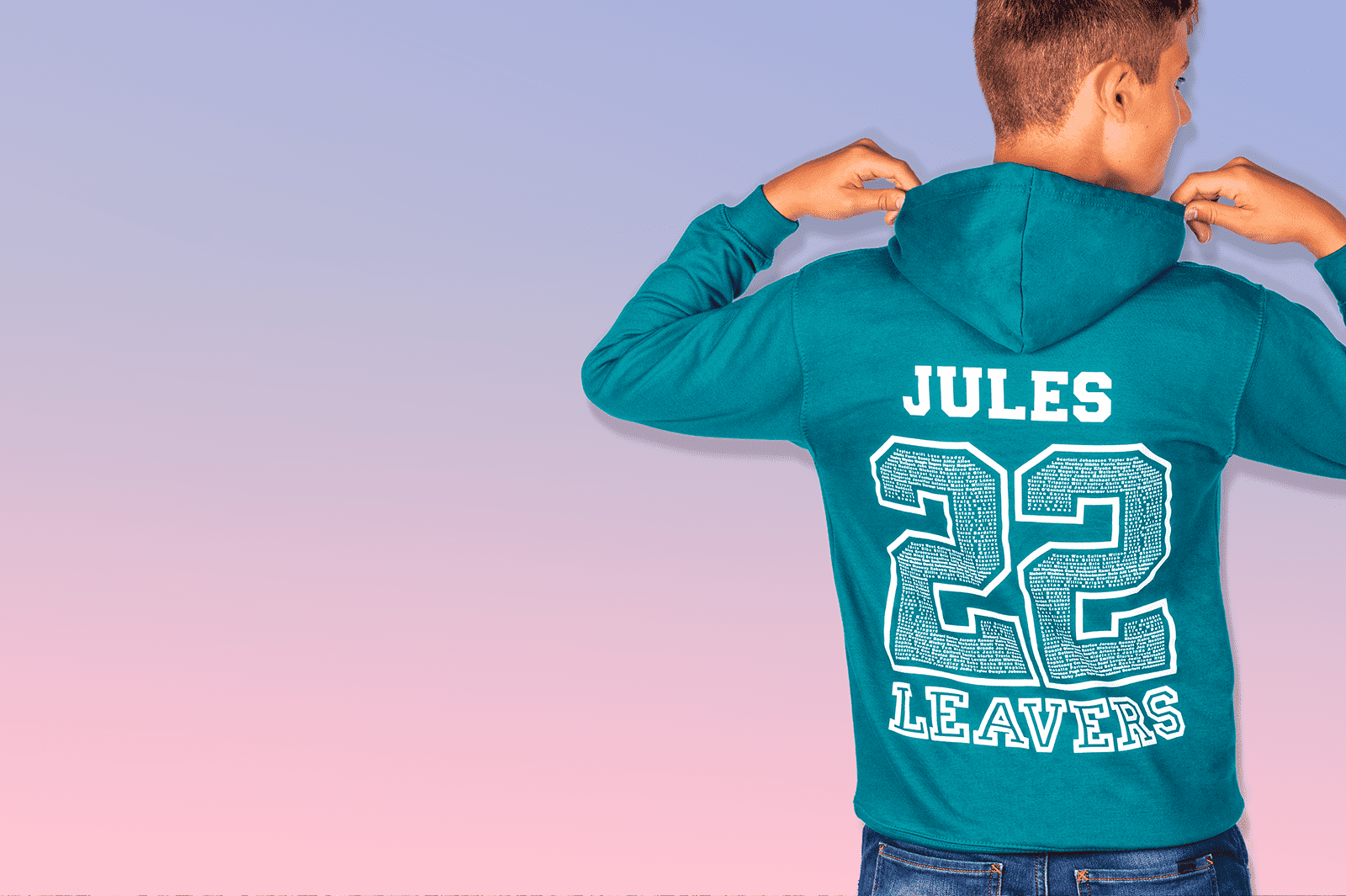 Organise your hoodies


before 31st December 2021

Every summer we are jam-packed with orders for School and University Leavers Hoodies. In an effort to make sure no one misses out, we are offering the opportunity to take advantage of an 'early bird' offer for orders placed, or online shops opened, before the end of the year.

Get started with your design
School Leavers Hoodies, done right
- Don't settle for less than the perfect leavers hoodie from the UK's favourite provider -
Our Early Bird prices
- For orders placed, and online shops opened, before
31st December 2021

we are delighted to offer the following reductions -
Secondary Schools & Universities
- Adult Sizes
10+

£21.99

£20.99 each

£26.99

£25.99 each

£29.99

£28.99 each

25+

£19.49

£18.49 each

£22.99

£21.99 each

£25.49

£24.49 each

50+

£16.99

£15.99 each

£19.99

£18.99 each

£21.49

£20.49 each

100+

£16.24

£15.24 each

£18.99

£17.99 each

£20.49

£19.49 each
Custom Printed or Embroidered Nicknames: £3 each (usually £4 each)
Primary & Prep Schools
- Child Sizes
10+

£17.99

£16.99 each

£21.99

£20.99 each

£24.49

£23.49 each

25+

£15.99

£14.99 each

£18.99

£17.99 each

£19.59

£18.59 each

50+

£13.79

£12.79 each

£16.29

£15.29 each

£17.49

£16.49 each

100+

£13.29

£12.29 each

£15.59

£14.59 each

£16.79

£15.79 each
Custom Printed or Embroidered Nicknames: £3 each (usually £4 each)
Prices shown are for our 80% cotton College Hoodies and include set-up, UK delivery, and VAT. There are no hidden extras.
Why order from us?
- Order with confidence from a company that cares about quality, service and value -
Easy online and bulk ordering
Fantastic quality garments
80% cotton hoodies (beware of cheap 50% cotton hoodies!)
Beautiful high-stitch-count embroidery
Double-hit screen prints as standard
The widest choice of designs, garments and colours
Ethically made and WRAP certified
Printed and embroidered in the United Kingdom
Professional personalised design service
Second-to-none customer service and communication
Fast two-week turnaround times
Free samples to check for quality and sizing
Contact us to get started
- we will get back to you within
24 hours

-
Some love from our customers
Get a great deal from the UK's favourite leavers hoodies company
Rated 'excellent' and five stars on independent review platform Trustpilot. We are the UK's favourite leavers hoodies company. We also offer ski trip hoodies, school trip hoodies, university hoodies, sports hoodies, and custom clothing of all kinds. Contact us today to get started with your order.